Fantastic tool to clean up your photos (without Photoshop)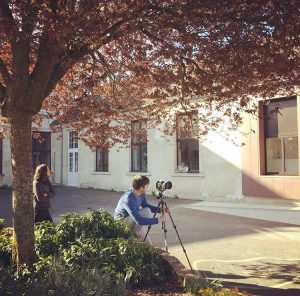 This time, together with ACBS Architectes (www.acbsarchitectes.com), we went to a small town in the Aisne region called  Trélou sur Marne. Our destination was  their recently finished project of a school extension. A simple volume  covered in zinc cladding had already acumulated a substantial amount of dust. The concrete floor around it was covered with some dead leaves and the windows were quite dirty. Through the eyes of my imagination I saw myself sitting in front of the computer, removing the leaves with the  Photoshop's "Clone stamp tool" for hours. This time I was wise, I ordered a clean up. The janitor lent us a broom, some paper towels and window cleaning spray. And so the 2 architects from ACBS, their intern and I all got to work. When the building was shining like new I took my shots. Those 20 minutes with the broom in my hand saved me a couple of hours of post-production.
Every photoshoot teaches me something. Now I always carry window cleaning spray and a roll of paper towels in my backpack alongside my camera although I don't quite have enough room for a broom.